Commemorative events for the 75th anniversary of the atomic bombings of Hiroshima and Nagasaki with Hibakusha testimonies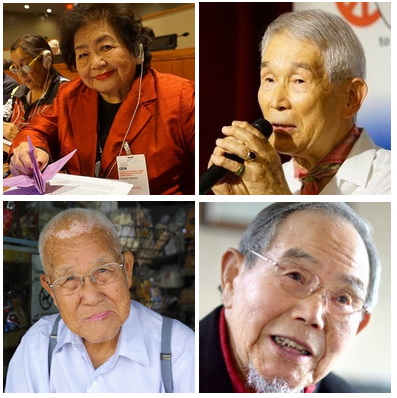 In 1945, two atomic bombs were detonated over the sky of Japan – first in Hiroshima on August 6, and Nagasaki on August 9. These bombs took the lives of over 210,000 people within the first year and made many others suffer from indescribable pain, grief, discrimination, and fear for the unknown effects on their children and grandchildren.
75 years on, the world still faces the grave threat of the existence of nuclear weapons, despite the decades-long plea for their total abolition led by civil society, academics, and political leaders. As the atomic bomb survivors (Hibakusha) are aging and many have already passed away, the opportunities to listen to their first-hand stories are becoming less and less every day.
This July, as a part of the global campaign by the International Campaign to Abolish Nuclear Weapons (ICAN), Peace Boat will hold Hibakusha testimony events to provide opportunities to listen to the first hand stories of atomic bomb survivors. These events will be a space to commemorate the gravity of the suffering of Hibakusha, to remind ourselves of the current nuclear threat, and to discuss possible actions we can take both together and individually. The first day of the series of four events is July 7, which also marks the three year anniversary of the adoption of the Treaty on the Prohibition of Nuclear Weapons (TPNW) at the United Nations.
In order to reach as many interested people as possible, the testimonies will be delivered in various languages. Please check the schedule below for details on each session.
All events will be conducted using Zoom and are free of charge.
Schedule and Registration
July 7 (Tuesday)
Time: Toronto EDT 10:00 am / PDT 7:00 am / Paris 4:00 pm / Beijing 10:00 pm
Hibakusha: Ms Setsuko THURLOW
Languages: Spoken in English, interpreted into French and Chinese (Mandarin)
REGISTRATION
July 15 (Wednesday)
Time: Mexico City 10:00 am / Madrid 5:00 pm
Hibakusha: Mr Yasuaki YAMASHITA
Language: Spanish (no interpretation provided)
REGISTRATION
July 23 (Thursday)
Time: Sao Paolo 9:00 am / Lisbon 1:00 pm / Tokyo 9:00 pm
Hibakusha: Mr Takashi MORITA
Languages: Spoken in Japanese, interpreted into Portuguese
REGISTRATION
July 31 (Friday)
Time: Seoul, Tokyo 4:00 pm / New Delhi 12:30 pm / Sydney 5:00 pm
Hibakusha: Mr LEE Jongkeun
Languages: Spoken in Japanese, interpreted into Korean and English
REGISTRATION
Hibakusha Profiles
Ms. Setsuko THURLOW (July 7, Tuesday)
Born as Setsuko Nakamura, she was 13 years old when the U.S. dropped the atomic bomb on Hiroshima on Monday August 6, 1945. She was then working as a member of the student mobilization program in the army headquarters, located approximately 1.8 km (1.1 miles) away from the hypocenter of the explosion. After having graduated from university in Hiroshima, she moved to the U.S. then Canada to pursue her study in social work. With a master's in social work from University of Toronto, she then spent 25 years as a social worker for the Toronto Board of Education and others in Canada. She began her anti-nuclear activism in 1954 after the US testing of hydrogen bomb in the Marshall Islands. She is now known as a leading figure of the International Campaign to Abolish Nuclear Weapons (ICAN), and for her powerful lecture upon ICAN's reception of the 2017 Nobel Peace Prize.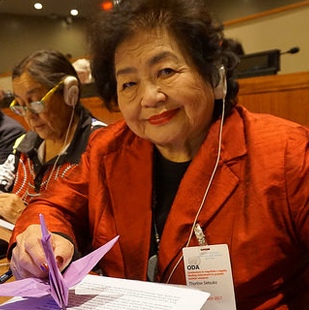 Mr. Yasuaki YAMASHITA (July 15, Wednesday)
Yasuaki was born on April 19, 1939 in Nagasaki. He was six years old when the second atomic bomb was dropped in Nagasaki, which caused him great suffering. After finishing high school he started working at a hospital in Nagasaki. In 1968, he moved to Mexico, where he lives now.
In 1995, in response to the repeated request of a friend's child in Mexico to tell him what happened on "that day", he finally broke his long silence and began telling people about that morning that changed the world's destiny.
Since then, Yasuaki has given testimony numerous times all across the world, touching the hearts of those who came to listen to his story.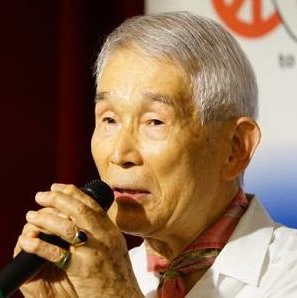 Mr. Takashi MORITA (July 23, Thursday)
Takashi was a 21 year old military policeman walking on the street approximately 1.5 km from the epicenter when the atomic bomb was detonated above the sky of Hiroshima city. Although he was severely burned on his neck and other parts of his body, he devoted himself to saving the lives of others who were injured by the bomb. In 1956 he and his family migrated to Brazil and in 1984 he established the Peace Association of Brazilian A-bomb Survivors, later renamed the Association of Hibakusha-Brazil for Peace. He has spent decades telling stories of his experiences to children and teachers of schools in Sao Paolo as chair of the organisation .
In 2011, one of the Sao Paolo's state vocational high schools was named after him, commemorating this commitment. In 2015 he was named an honorary citizen of Sao Paolo.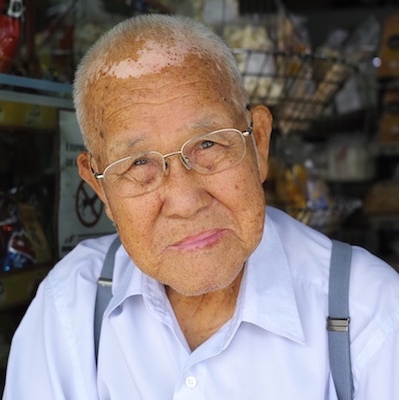 Mr. LEE Jongkeun (July 31, Friday)
Lee Jongkeun is a second-generation Korean resident in Japan; his father moved to Japan after Japan's colonisation of Korea. He was 15 years old and working for the Japan National Railways when the atomic bomb was detonated in Hiroshima. He was on the way to work at the time of the explosion, and severely injured with burns on his neck and legs.
He started sharing his testimonies during his participation in the fifth edition of Peace Boat's Global Voyage for a Nuclear Free World in 2012, and since then has been actively involved in various anti-nuclear activities.